We live in a world of estrogen dominance and this is a leading factor in many of the health problems people face today. We will discuss what estrogens and androgens are, the many effects of estrogen dominance, how we become overloaded with four bad kinds of estrogens, and lastly what you can do about it.
This article is important for both men and women. Women have much more estrogen than men. Men have many more androgens then women. But both genders have both. And both are affected by the modern day environment to become estrogen dominant in a way that undermines their health and performance.
Different Types of Estrogen
There are many hormones in the body, in fact, there's over 240 of them and today we are going to dive into a few of these varieties. Estrogen is not just one hormone, but a class of several different forms.
Estrone (E1) – One of the worst estrogens appears to be 16 alpha-hydroxy-estrone. However, there are also good estrones like 2 hydroxy-estrone.
Estradiol (E2) – Excessively elevated levels of estradiol are the most common of the  "bad" estrogens.
Estriol (E3) – Of all the estrogens, estriol appears to have the best health producing effects.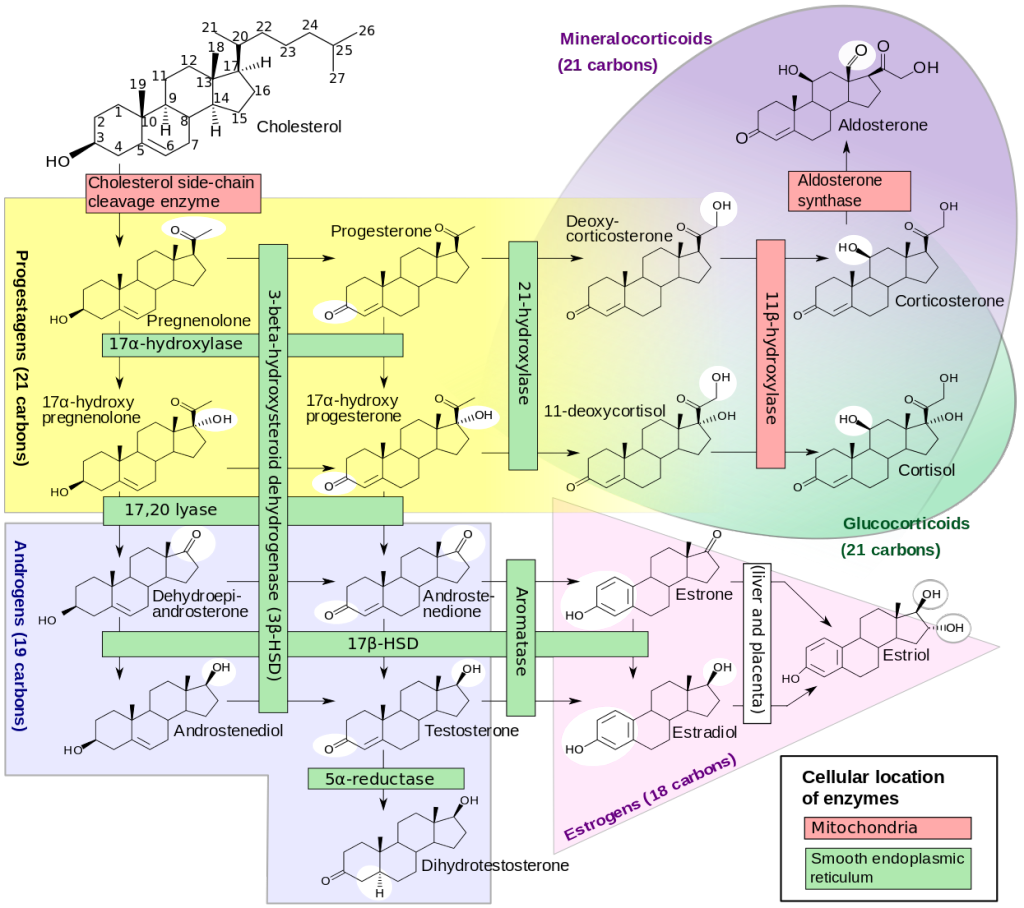 So its important to note that while all estrogens are necessary in both men and women, especially women, their effects will depend on the ratio and amounts of them and estrogen dominance is an overburdening of excess estrogens, especially of the "bad kinds", leading to all sorts of health issues.
The Androgens and their Effects
Dehydroepiandrosterone (DHEA) – A "weak" androgen with very low biological potency as far as male sex effects, but many other important anti-aging roles in the body.
Androstenedione – The precursor to testosterone with roughly 20 percent of its potency.
Testosterone – The most well known of androgens, because of its strong effects.
Androsterone – A breakdown product of the androgens with one-seventh the strength of testosterone.
Dihydrotestosteone (DHT) – A metabolite of testosterone, with excesses of it playing a role in male pattern baldness and prostate issues.
Having your androgenic hormones working properly will allow you to build and retain muscle mass better, support weight loss, enhance sex drive and function, increase "zest and vitality" and a sense of well-being in life, and even support cognitive function.
In addition to these effects for both sexes, androgens serve as the precursors to estrogens. So the androgens are required as precursors to some of the hormones they need and must be converted.
The Bad Effects of Estrogen Dominance
So just what will estrogen dominance do to you? Here's a list of a variety of illnesses and problems estrogen dominance can contribute to.
Weight gain (especially being unable to get rid of "stubborn" fat)
Lack of Sex Drive
Impotence
Bone loss and osteoporosis
Cancer, especially breast in women and prostate in men
Diabetes
Breast enlargement (early development for girls, and also "man boobs" or gynecomastia for guys)
Acne
Foggy Thinking
Insomnia
Impaired athletic performance
Immune system compromise
Low energy and "mid-day slump"
Slow healing
cellulite
And more